Ann Arbor
ABOUT US
Ten Thousand Villages in Ann Arbor, MI, is a fair-trade retailer of artisan-crafted home decor, personal accessories, clothing, and gift items from across the globe.
We feature products from more than 20,000 artisans in over 30 countries. We are part of a network of stores selling Ten Thousand Villages products throughout the U.S.
As one of the world's oldest and largest fair-trade organizations, Ten Thousand Villages has spent more than 75 years cultivating trading relationships in which artisans receive a fair price for their work and consumers have access to distinctive handcrafted items. We seek to establish long-term buying relationships in places where skilled artisans are under or unemployed, and in which they lack other opportunities for income. A founding member of the World Fair Trade Organization (WFTO) and the Fair Trade Federation, Ten Thousand Villages sees fair trade as an alternative approach to conventional international trade.
Ten Thousand Villages of Huron Valley opened its doors on Main Street in Ann Arbor, Michigan in October 2004, becoming the first Fair Trade, non-profit handicraft retail store in the city. The Ann Arbor store is proud to rank as one of the most successful stores in a chain of over 50 stores in the U.S.
Come visit us at 303 South Main Street soon and enjoy the world music and upbeat atmosphere that attracts so many to our store. We can comfortably promise that you will find our unique, handcrafted, and reasonably priced merchandise a real 'find.' Whether you are furnishing your home, looking for that perfect piece of jewelry, or buying a gift, let us help you discover the wonder of Ten Thousand Villages. We'd love to be your store of choice, as we have for so many other dedicated customers from near and afar.
VOLUNTEER
We welcome you to Join Our Village of volunteers! The success of Ten Thousand Villages in Ann Arbor is due to the wonderful group of volunteers that have "stepped up to the plate" and devoted their time and energy to the principles of Fair Trade and to ensuring the dignity and living wages of our artisans in developing countries. Stop by our store to pick up an application form or get more information on how you can become a volunteer and make a difference in the lives of makers across the globe.
Our trained volunteer staff of over 30 dedicated individuals ranges from 16 to 85 years of age. Working in the store is educational and fun, and many friendships and shared stories have created a true Villages family right on Main Street!
VOLUNTEER OPPORTUNITIES AT TEN THOUSAND VILLAGES OF HURON VALLEY:
SALES SUPPORT: Work in our Ten Thousand Villages store greeting and assisting customers on the sales floor, processing sales, and maintaining an attractive and well stocked sales floor. Hours can be regularly scheduled shifts (2-4 hours) or changing on a weekly basis.
INVENTORY TEAM: Unpacking incoming shipments in the store's basement. Hours are scheduled on an as needed basis.
BOARD POSITIONS: Membership in our Board of Directors. Board meetings are held monthly.
Store Infomation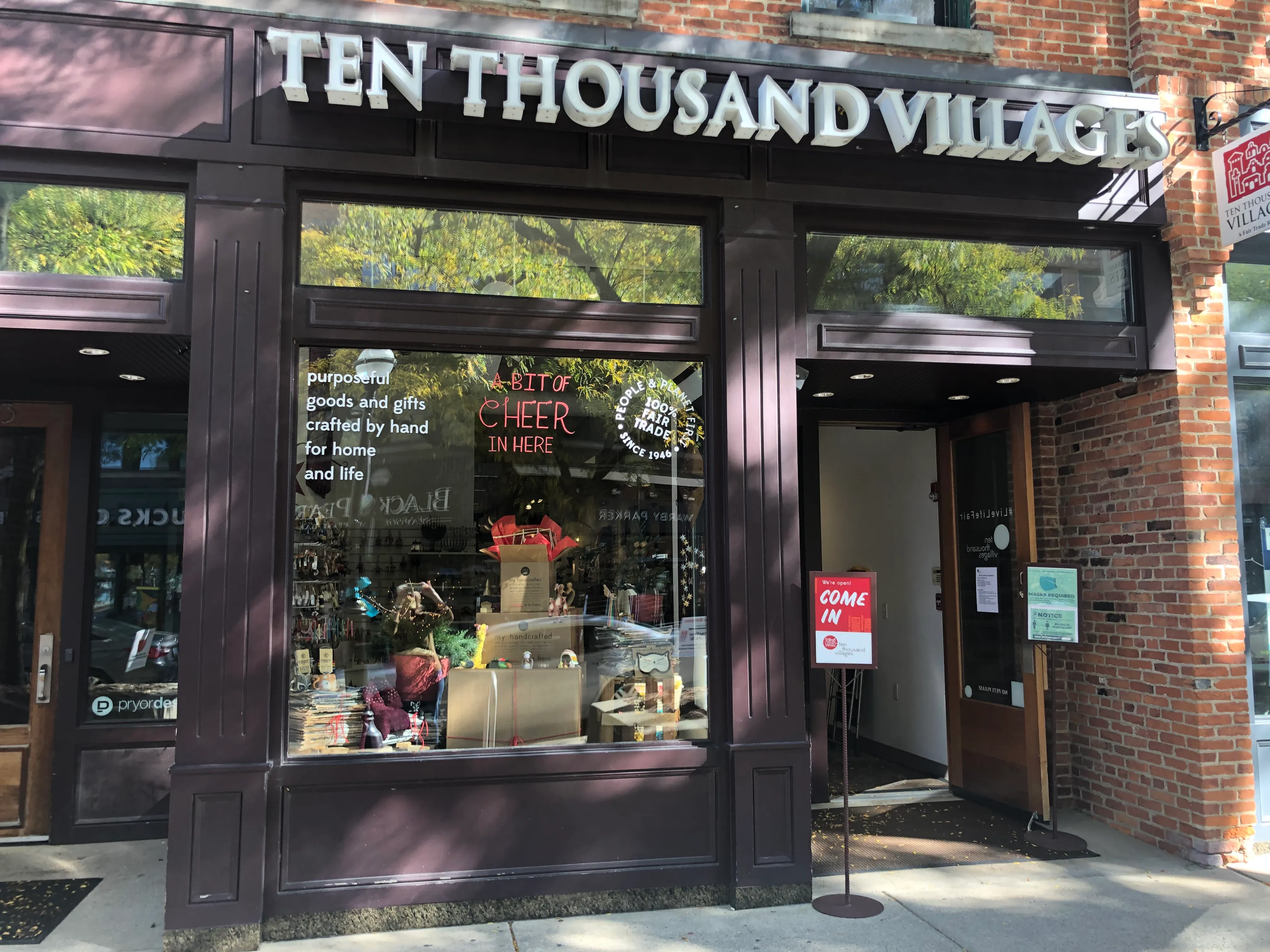 Store Operation Hours
| | |
| --- | --- |
| Monday | 10:00 AM - 07:00 PM |
| Tuesday | 10:00 AM - 07:00 PM |
| Wednesday | 10:00 AM - 07:00 PM |
| Thursday | 10:00 AM - 07:00 PM |
| Friday | 10:00 AM - 09:00 PM |
| Saturday | 10:00 AM - 09:00 PM |
| Sunday | 12:00 PM - 06:00 PM |