Baltimore
ABOUT US
Our store is located in the Historic Fells Point Area since 1996.
VOLUNTEER
We welcome you to join our village of volunteers! As a nonprofit store, volunteers are crucial to our success. Apply now to join our fun-filled volunteer positions—greeting and interacting with customers, unpacking and checking orders, assisting with displays and operating the cash register. We welcome volunteers any time of the year. Our volunteers serve a variety of functions and have a huge impact on every aspect of our organization. Simply put - we couldn't exist without our volunteers!
If you are interested in being a part of the fair-trade movement, we hope you will consider joining our volunteer team. We welcome highly motivated people who have a passion for our people-driven mission and the products we sell. No previous experience or skills are required - just a friendly attitude and the desire to help. We ask that our volunteers work at least 8 hours per month, and we have a very flexible schedule to make it easy to fit your volunteer hours into your own schedule.
If you are interested in becoming a volunteer email the store at baltimore@tenthousandvillages.com
Store Infomation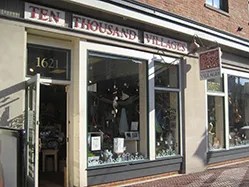 Store Operation Hours
| | |
| --- | --- |
| Monday | 10:00 AM - 06:00 PM |
| Tuesday | 10:00 AM - 06:00 PM |
| Wednesday | 10:00 AM - 06:00 PM |
| Thursday | 10:00 AM - 06:00 PM |
| Friday | 10:00 AM - 06:00 PM |
| Saturday | 10:00 AM - 06:00 PM |
| Sunday | 10:00 AM - 05:00 PM |