Champaign
ABOUT US
Ten Thousand Villages in Champaign, IL, is a fair trade retailer of artisan-crafted home decor, personal accessories and gift items from across the globe. Featuring products from more than 130 artisan groups in some 38 countries, we are part of a network of over 390 retail outlets throughout the United States selling Ten Thousand Villages products.
As one of the world's oldest and largest fair trade organizations, Ten Thousand Villages has spent more than 60 years cultivating trading relationships in which artisans receive a fair price for their work and consumers have access to distinctive handcrafted items. We seek to establish long-term buying relationships in places where skilled artisans are under- or unemployed, and in which they lack other opportunities for income. A founding member of the World Fair Trade Organization (WFTO), Ten Thousand Villages sees fair trade as an alternative approach to conventional international trade.
Ten Thousand Villages was opened as a store in the fall of 1985 at 44 E. University Avenue, downtown Champaign with the name Selfhelp Village Crafts. The store was opened under the sponsorship of Arthur Mennonite Church at Arthur, Dewey Evangelical Mennonite Church at Dewey, East Bend Mennonite Church at Fisher and First Mennonite Church of Champaign-Urbana.
In September of 1988 the store moved to its current location at 105 N. Walnut in downtown Champaign and changed its name to Selfhelp Worldwide Gifts. The move was motivated by a desire for increased visibility and accessibility coupled with a larger floor area and storage space. A more noticeable store was the result and a new, larger customer base ensued, especially with passer-by customers becoming much more common. In October of 1999, after some physical renovation, painting, and new display units, (all done by volunteers) the name of the store was changed to Ten Thousand Villages. This was done to identify with other stores throughout the United States with the same mission.
VOLUNTEER
We welcome you to join our village of volunteers! As a nonprofit store, volunteers are crucial to our success.
Ten Thousand Villages managers depend on volunteers who help with the daily operation of the store. Volunteers are trained in a variety of tasks, from assisting customers with product selection, to cash register sales, to recruiting new volunteers.
Volunteers build cultural understanding and form an important link between customers and artisans, by learning about the handicrafts and telling the stories of the artisans who make these beautiful products.
The management team plans and coordinates the volunteer schedule. Store volunteers, ages 18 and up, should be:
Comfortable in the atmosphere of a retail store; selling, assisting customers in finding merchandise, using the register
Willing to learn about the fair trade mission of Ten Thousand Villages and share it with customers
Able to stand for 4 hours shifts with reasonable breaks
Able to commit to two 4-hour shifts per month and to make an initial commitment of at least 6 months
Willing to attend two 2-hour training sessions
Let us know you're interested by filling out an application at our store. You can also call or email us.
Store Infomation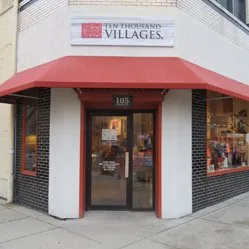 Store Operation Hours
| | |
| --- | --- |
| Monday | 10:00 AM - 05:00 PM |
| Tuesday | 10:00 AM - 05:00 PM |
| Wednesday | 10:00 AM - 05:00 PM |
| Thursday | 10:00 AM - 05:00 PM |
| Friday | 10:00 AM - 05:00 PM |
| Saturday | 10:00 AM - 05:00 PM |
| Sunday | Close |