ABOUT US
Ten Thousand Villages in Charlottesville, VA, is a fair trade retailer of artisan-crafted home decor, personal accessories and gift items from across the globe. Featuring products from more than 130 artisan groups in some 38 countries, we are part of a network of over 390 retail outlets throughout the United States selling Ten Thousand Villages products.
As one of the world's oldest and largest fair trade organizations, Ten Thousand Villages has spent more than 60 years cultivating trading relationships in which artisans receive a fair price for their work and consumers have access to distinctive handcrafted items. We seek to establish long-term buying relationships in places where skilled artisans are under- or unemployed, and in which they lack other opportunities for income. A founding member of the World Fair Trade Organization (WFTO), Ten Thousand Villages sees fair trade as an alternative approach to conventional international trade.
OUR STORE
Ten Thousand Villages in Charlottesville opened on April 8th, 2011. We are comprised of paid staff members and dedicated volunteers. We are a member of the Charlottesville Chamber of Commerce, and the Center for Non-Profit Excellence. As proud members of the Charlottesville community we offer monthly community-oriented events, Community Shopping Events, and select speaking enagements. We love to partner with local vendors, businesses, and other non-profit organizations for community events and activities.
If you would like to set up an event with us, or have us come to your school/orginization to speak on fair-trade please stop by the store suring business hours, or contact us at charlottesville@tenthousandvillages.com.
OUR LOCATION
Ten Thousand Villages Charlottesville is located on the Historic Downtown Walking Mall - A dynamic place where history is intertwined with a thriving city center. This vibrant historic district is replete with live theater, music and cinema. Enjoy the limitless dining choices and specialty shops for every taste, all located along seven blocks on brick- and tree-lined streets once walked on by Jefferson, Madison and Monroe.
The City of Charlottesville is consistently ranked as one of the best places to live in the nation. It's diverse residents and large student body make it a wonderful place to experience different cultures. Ten Thousand Villages is proud to be located in such a historic and influental community.
VOLUNTEER
Ten Thousand Villages Store Managers and Assistant Managers depend on volunteers who help with the daily operation of the store. Trained in a variety of tasks, volunteers provide customer service, assist with general store maintenance, unpack and restock merchandise, and recruit new volunteers. Volunteers build cultural understanding and form an important link between customers and artisans, by learning about the handicrafts and telling the stories of the artisans who make these beautiful products. One of the most important qualifications is enthusiasm for our mission and an understanding of our program. The rewards for this job come from treating our neighbors around the world in a just manner and helping to equalize (in a small but significant way) the distribution of wealth in our world. We also feel that one of the rewards is working together with a team of staff and volunteers who are all committed to this mission.
Let us know you're interested by filling out an application at our store. We have more information on the daily activities of a volunteer here. You can also contact our Volunteer Coordinator for more information at charlottesville@tenthousandvillages.com.
Store Infomation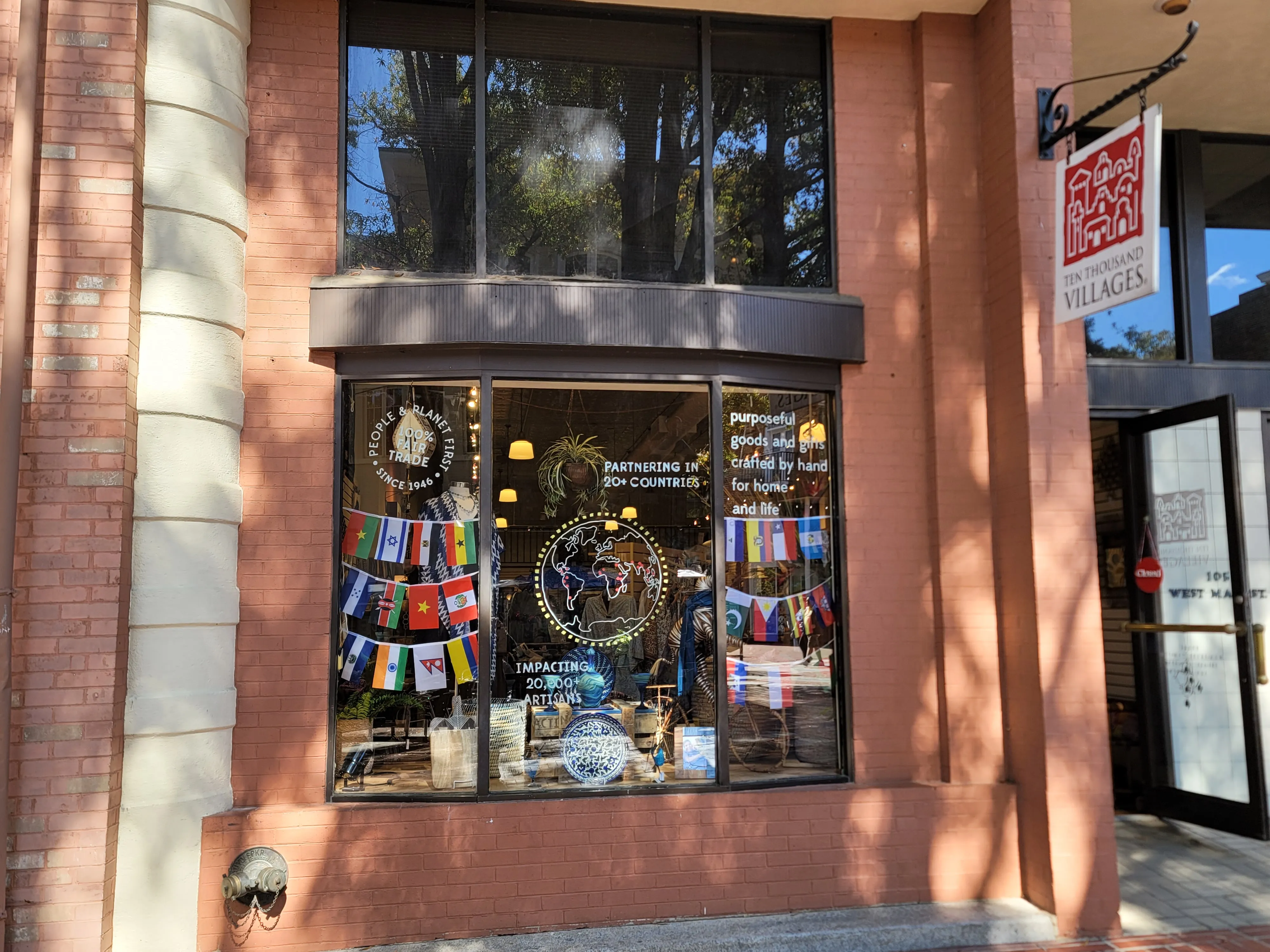 Store Operation Hours
| | |
| --- | --- |
| Monday | 11:00 AM - 07:00 PM |
| Tuesday | 11:00 AM - 07:00 PM |
| Wednesday | 11:00 AM - 07:00 PM |
| Thursday | 11:00 AM - 07:00 PM |
| Friday | 11:00 AM - 08:00 PM |
| Saturday | 11:00 AM - 08:00 PM |
| Sunday | 12:00 PM - 05:00 PM |