Harrisonburg
ABOUT US
Ten Thousand Villages in Harrisonburg, VA carries fair trade artisan-crafted home decor, personal accessories, and gift items from across the globe, including coffee, tea, chocolate, and more. Featuring products from more than 20,000 makers in 30 developing countries, we are part of a network of about 53 non-profit Ten Thousand Villages stores specializing in Fair Trade retail.
Our Harrisonburg store started with the dream of two local women who became determined to begin a fair trade store in this area after a visit to the Ephrata, PA flagship store. In 1993 the store began as "International Impressions" and was located in a strip mall behind Harrisonburg's Valley Mall. From there, the store moved to the Shenandoah Farmer's Market and later to the Dayton Farmer's Market where it remained for fourteen years and took on the name "Ten Thousand Villages." In 2011, our store moved to its present location at 181 S. Main Street in downtown Harrisonburg.
OUR STAFF
Ten Thousand Villages Harrisonburg is made up of paid staff members, a handful of committed and passionate volunteers, and a nine member board of directors.
Meet our current staff:
Kara Miller- Executive Director
Elva Rhodes - Visual Merchandiser/Assistant Manager
Stephanie Resto - Volunteer Coordinator/Outreach Coordinator
Carmen Miller - Sales Associate
VOLUNTEER
Ten Thousand Villages depends on volunteers, who in addition to paid staff, assist with the daily operations of the store. Enthusiastic and dedicated volunteers are vital to the success of the store and make it possible to us to continually increase the number of artisan families that benefit. Volunteers build cultural understanding and form an important link between customers and artisans, by learning about handicrafts and telling the stories of artisans who make these beautiful products. Volunteers can be trained in all aspects of store operation, including sales associates who provide customer service, help with unpacking and restocking and general store maintenance.
For more information contact our Volunteer Coordinator at outreach.harrisonburg@tenthousandvillages.com
COMMUNITY RECOGNITION
In years past we have been winners of several awards including the Daily News Records' "Best of the Valley" and Virginia Living's "Best of Virginia". We have been honored by the Best of the Downtown by the Daily News Record readers 2012-2015..
Store Infomation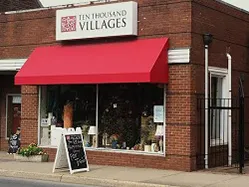 Store Operation Hours
| | |
| --- | --- |
| Monday | 11:00 AM - 06:00 PM |
| Tuesday | 11:00 AM - 06:00 PM |
| Wednesday | 11:00 AM - 06:00 PM |
| Thursday | 11:00 AM - 06:00 PM |
| Friday | 11:00 AM - 06:00 PM |
| Saturday | 10:00 AM - 06:00 PM |
| Sunday | 12:00 PM - 04:00 PM |