ABOUT US
Ten Thousand Villages in Mechanicsburg, PA, is a fair trade retailer of artisan-crafted home decor, personal accessories and gift items from across the globe. Featuring products from more than 130 artisan groups in some 38 countries, we are part of a network of over 390 retail outlets throughout the United States selling Ten Thousand Villages products.
As one of the world's oldest and largest fair trade organizations, Ten Thousand Villages has spent more than 60 years cultivating trading relationships in which artisans receive a fair price for their work and consumers have access to distinctive handcrafted items. We seek to establish long-term buying relationships in places where skilled artisans are under- or unemployed, and in which they lack other opportunities for income. A founding member of the World Fair Trade Organization (WFTO), Ten Thousand Villages sees fair trade as an alternative approach to conventional international trade.
LEARN MORE ABOUT OUR OUTREACH PROGRAM
Community Presentations: We make presentations about fair trade and Ten Thousand Villages to community groups throughout the Harrisburg area, including churches, civic organizations and women's groups. The presentations are customized to fit your time constraints and focus and take place at your location or in our store.
In-store Student Presentations: Students learn about fair trade, other cultures and even a little geography during these age specific presentations ranging from first grade through high school.
In-school Holiday Gift Sales: Give students an opportunity to buy unique holiday gifts of good quality that have meaning far beyond the gift itself. Store staff sets up and takes down the sale; school volunteers are trained to manage it. Display information that describes fair trade and the artisans can be included.
For more information on any of the above programs, please contact Linda Polley, Store Manager, at 717-796-1474.
VOLUNTEER
We welcome you to join our village of volunteers! As a nonprofit store, volunteers are crucial to our success. Apply now to join our fun-filled volunteer positions—greeting and interacting with customers, unpacking and checking orders, assisting with displays and operating the cash register. We welcome volunteers any time of the year.
Ten Thousand Villages Mechanicsburg is grateful to have a base of over 30 volunteers who help our store run smoothly, keep our customers informed and share the message of fair trade. If you're interested in joining our family of volunteers, please contact LaDonna at 717-796-1474.
Store Infomation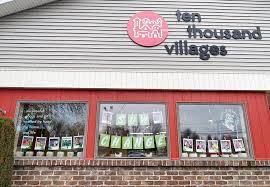 Store Operation Hours
| | |
| --- | --- |
| Monday | 10:00 AM - 06:00 PM |
| Tuesday | 10:00 AM - 06:00 PM |
| Wednesday | 10:00 AM - 06:00 PM |
| Thursday | 10:00 AM - 06:00 PM |
| Friday | 10:00 AM - 06:00 PM |
| Saturday | 10:00 AM - 06:00 PM |
| Sunday | Close |