FAIR TRADE
WHAT IT MEANS. HOW IT'S MADE. WHY IT MATTERS.
Ten Thousand Villages presents a world of difference with exquisite home decor, personal accessories and gift items handcrafted by artisans around the world. Artisans whose work isn't just their livelihood, but an expression of their culture. Ten Thousand Villages invites you to escape the ordinary and immerse yourself in a world of colors, textures, aromas, flavors and sounds.
Ten Thousand Villages in Oak Park is a non-profit, fair trade retailer offering handicrafts by artisans in more than 35 developing countries. Products include jewelry and personal accessories, home and garden decor, musical instruments, toys, coffee, tea, and chocolate.
ABOUT US
Ten Thousand Villages in Oak Park, IL, is a fair trade retailer of artisan-crafted home decor, personal accessories and gift items from across the globe. Featuring products from more than 130 artisan groups in some 38 countries, we are part of a network of over 390 retail outlets throughout the United States selling Ten Thousand Villages products.
As one of the world's oldest and largest fair trade organizations, Ten Thousand Villages has spent more than 75 years cultivating trading relationships in which artisans receive a fair price for their work and consumers have access to distinctive handcrafted items. We seek to establish long-term buying relationships in places where skilled artisans are under- or unemployed, and in which they lack other opportunities for income. A founding member of the World Fair Trade Organization (WFTO), Ten Thousand Villages sees fair trade as an alternative approach to conventional international trade.
Our store opened on September 7, 2007. We hope you will stop by to explore the wonderful variety of items we offer, to find things for yourself as well as gifts for the holidays and throughout the year.
VOLUNTEER!
We welcome you to join our village of volunteers. As a nonprofit store, volunteers are crucial to our success.
Customer Service & Sales: Work in our Ten Thousand Villages store greeting and assisting customers on the sales floor during weekly shifts which are 2.5 – 3 hours. You will learn how to maintain our attractive well stocked store, retrieve merchandise and boxes from the basement, and process sales. Working with volunteers and staff you will help do tasks in the store or basement.
QUALIFICATIONS:
Dependable, attentive, and able to interact easily with people
Computer and internet capable
Minimum age 16
Offsite Sales Event Team: Tasks range from transport merchandise, set up displays, share our story about fair trade, and help customers with their purchases. Sales vary in distance from the store and are held are churches, hospitals, and building lobbies.
Outreach Education Team: Our purpose is to educate the public about Ten Thousand Villages and our artisan partners. Tasks range from transporting and setting up displays to making presentations. Hours are scheduled as needed.
Board Positions: Membership in our Board of Directors. Help direct the future of our store with policies and fundraising. Board meetings are held monthly. Seeking professionals with experience in law, retail, social media, advertising/marketing, volunteer management, finance/accounting or nonprofit.
FAQ'S
How Do Volunteers Support the Mission of Ten Thousand Villages? We consider our volunteers to be Fair Trade Ambassadors for artisans in countries around the world. Volunteers are encouraged to learn as much as possible about the handicrafts we sell and the people who make them.
What Do Volunteers Do? Everything we do centers around the customer. While shopping you can share an artisan story and help customers find the perfect gift. Explain about Fair Trade. Show them musical instruments, lost wax art pieces or so many interesting gifts. Restock the store of handicrafts. This is a just a sampling of the activities of our volunteers.
What Benefits Do Volunteers Receive? Meet friendly customers and great co-workers. Receive a generous discount on our unique fair trade merchandise. Know you're doing something good for our world.
Apply online HERE!
Have questions? Please contact the store at 708-848-4572 or volunteersvillagesop@gmail.com
We look forward to meeting you!
Store Infomation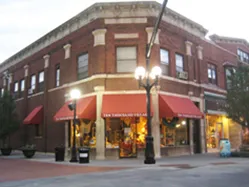 Store Operation Hours
| | |
| --- | --- |
| Monday | 10:00 AM - 06:00 PM |
| Tuesday | 10:00 AM - 06:00 PM |
| Wednesday | 10:00 AM - 06:00 PM |
| Thursday | 10:00 AM - 06:00 PM |
| Friday | 10:00 AM - 06:00 PM |
| Saturday | 10:00 AM - 06:00 PM |
| Sunday | 10:00 AM - 05:00 PM |