ABOUT US
Ten Thousand Villages Philadelphia is located in bustling Center City on Walnut Street. Grab a bite to eat, hit up a museum or gallery, stroll this walkable neighborhood and stop by to shop.
We're a nonprofit shop with small-batch, home decor, jewelry, accessories, and gifts handcrafted by makers from around the world.
Our sustainable retail model puts people and planet first. We started fair trade in 1946 and were a founding member of the World Fair Trade Organization (WFTO).
We see fair trade as an equitable alternative to conventional international trade.
We cultivate trading relationships in places where skilled artisans are under or unemployed, where they lack other opportunities for income. With Ten Thousand Villages, artisans earn fair prices and work in safe conditions, and customers can shop their values.
To support this maker-to-market movement, SHOP and when you can, GIVE. It is all invested in the artisan–centered cycle of sustainable good:
Ten Thousand Villages helps to preserve crafting traditions passed down through generations, where artisans innovate on that tradition using sustainably sourced materials.
Stop in to find that one-of-a-kind gift and positively impact our global artisan partners. When you shop with intention, you share in the joy.
Outreach Opportunities
We do educational events and community outreach. If you're part of a school, church or community organization, contact our store manager about having a special event either at your location or at our store on Walnut Street. We're happy to work with groups of all sizes—no group is too small.
Email us at manager.philadelphia@tenthousandvillages.com.
VOLUNTEER
Join our village of volunteers! As a nonprofit shop, volunteers are crucial to our success.
Apply now to join our fun-filled volunteer crew: greeting and interacting with customers, unpacking and checking orders, assisting with displays, and more. We welcome volunteers any time of the year.
Let us know if you're interested by filling out an application at our store. You can also call 445-444-0632 or email at philadelphia@tenthousandvillages.com.
Store Infomation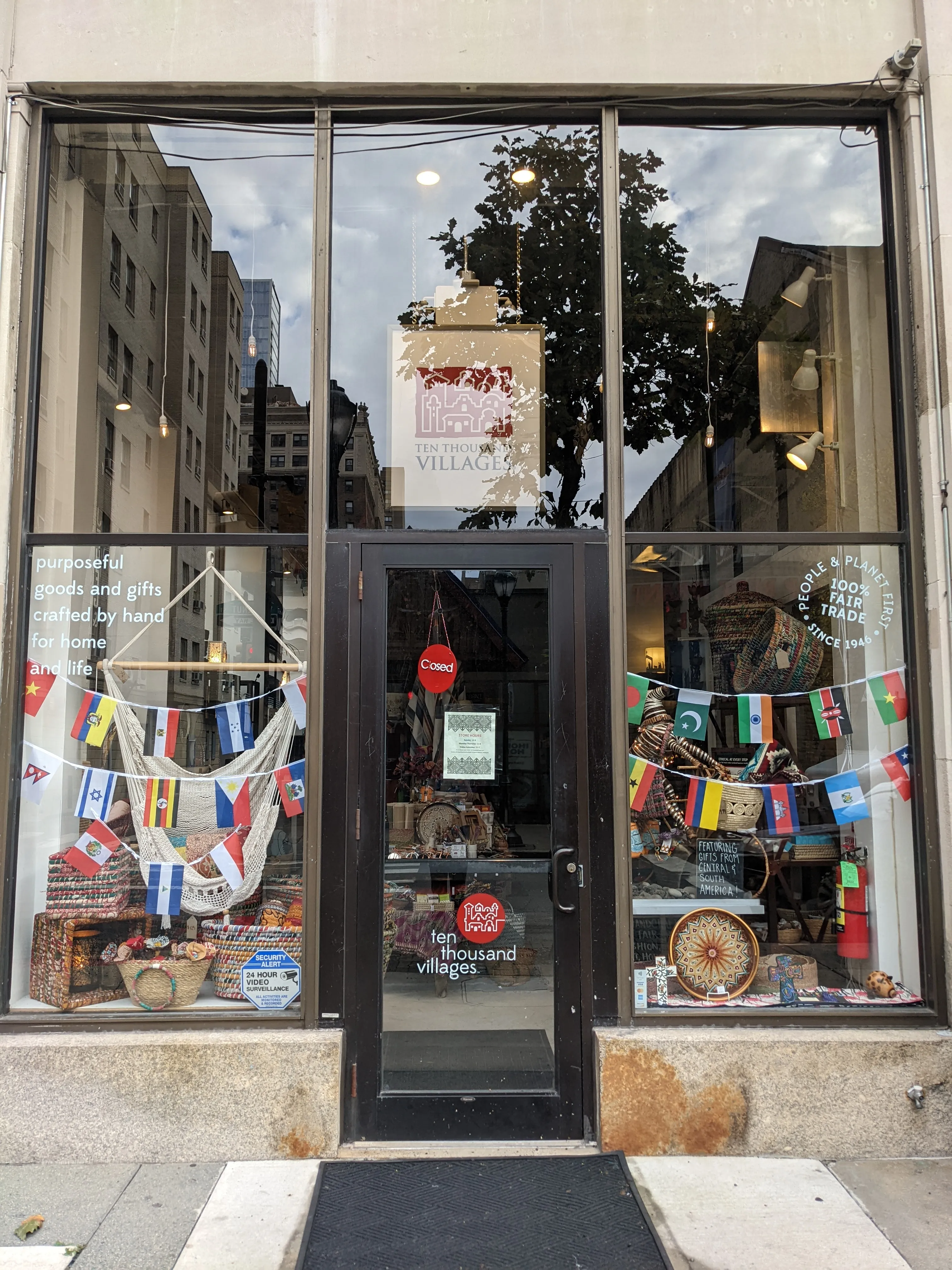 Store Operation Hours
| | |
| --- | --- |
| Monday | 10:00 AM - 07:00 PM |
| Tuesday | 10:00 AM - 07:00 PM |
| Wednesday | 10:00 AM - 07:00 PM |
| Thursday | 10:00 AM - 07:00 PM |
| Friday | 10:00 AM - 07:00 PM |
| Saturday | 10:00 AM - 07:00 PM |
| Sunday | 12:00 PM - 06:00 PM |