Richmond - Carytown
ABOUT US
Ten Thousand Villages in Richmond, VA, is a fair trade retailer of artisan-crafted home decor, personal accessories and gift items from across the globe. Featuring products from more than 130 artisan groups in some 38 countries, we are part of a network of over 390 retail outlets throughout the United States selling Ten Thousand Villages products.
As one of the world's oldest and largest fair trade organizations, Ten Thousand Villages has spent more than 60 years cultivating trading relationships in which artisans receive a fair price for their work and consumers have access to distinctive handcrafted items. We seek to establish long-term buying relationships in places where skilled artisans are under- or unemployed, and in which they lack other opportunities for income. A founding member of the World Fair Trade Organization (WFTO), Ten Thousand Villages sees fair trade as an alternative approach to conventional international trade.
OUR STORE
Our store in Richmond, Virginia, is located at 3201 West Cary Street, in the historic Carytown district. Free parking is available both on the street and in public parking decks north of Cary Street.
OUR HISTORY
The Richmond store opened in August 1995 and was called Selfhelp Crafts of the World. It was located near the Byrd Theatre and staffed by a Store Manager and a few supporting volunteers. The store grew in success and size over the next few years. The name Selfhelp Crafts of the World was changed to Ten Thousand Villages in 1997. The name of the store was changed to reflect the fact that for many of our craftspeople, the village is where one's heart is, an important symbol of family, tradition, and culture. In June 2001, the store changed its location to its current location at 3201 West Cary Street. Since that time, we have changed the store design. In February 2006, we moved the store offices from upstairs to the basement to make more room for merchandise. In addition, our volunteer numbers have grown significantly, and we now have four full-time staff and one seasonal staff.
Staff Profiles
Aisha Eqbal - Executive Director & Store Manager
Aisha Eqbal comes from a background in Art & Design and has over fourteen years of experience in client relations, customer service, sales, and management.
Her education in Art History from Virginia Commonwealth University has played a significant role in her career, as it has fostered her knowledge and understanding of Art & Design practices throughout various Ages and cultures. Ten Thousand Villages' mission of working with aritsans in developing countries parallels Ms. Eqbal's career objective of bridging western, contemporary markets with eastern, traditional practices.
Ms. Eqbal was born in Karachi, Pakistan to a painter and a textile designer and grew up around printing tables, pattern makers, wood carvers. Growing up in Pakistan, she learned the value of fundamental
craft and material processes, and her parents taught her the importance of raw materials and organic methods, and the art of the hand-made. As masters in their field with extensive experience in fair-trade, her parents provided the platform, which served as a catalyst, contributing significantly to the diversity in her career, and has shaped her as a social connector. Through these experiences she has come to appreciate the value of the hand-made and the value of the individual contribution to a material. She has seen, first-hand, the experience, dedication, and hard-work that it takes, and is essential to the
production and development of the artisan's product, understanding the labor of love that is required to bring such beauty into the hands of consumers. It is more than the product. It is about the individual,
the people, the communities, and the connectivity that is created throughout the world. The experience she has gained over fourteen years in sales, management, and customer service have been
an extension of her parent's dedication, there for creating a strong passion in her to bridge and unite cultures and traditional trade practices and sustaining them in a rapidly changing, modern retail era.
Kelly McCleary – Board Chair
Kelly McCleary has been a customer and supporter of Ten Thousand Villages for over 25 years. She joined the board of the Richmond store in January of 2020 and became board chair in May of 2020.
Kelly has a Mennonite heritage that she can trace back to 1626 Prussia. As an adult, she lived in a Mennonite community in central Kansas with a Ten Thousand Villages store, becoming familiar with its Fair Trade mission. After graduating from Wichita State University with a BBA and MBA in Finance, she held a series of finance leadership positions for large manufacturing companies and Walmart. She moved to Richmond in July 2019 to assume the lead finance role with AMF Bakery Systems. She previously served on the boards of Wayside House, a women's substance abuse shelter in Minneapolis, and Habitat for Humanity in Northwest Arkansas, serving as board chair there. Kelly has a son and two daughters.
Kelly's One Reason Why: "Ten Thousand Villages provides lifts artisans and communities by providing them an opportunity to support their families in a fair and meaningful way. Ten Thousand Villages connects Richmond citizens to people from other cultures in a tangible way that benefits all."
Dakota McCormack – Sales Floor Manager
Dakota McCormack comes from a background of Visual & Performing arts and has 7 years of customer service, sales, and retail experience.
Their time at Radford and Randolph-Macon were centered around music and the arts, growing a deep appreciation for creativity of all types and cultures. As a freelance artist, they love observing and learning about the pieces that come to the store from all over the world. Understanding and implementing fair-trade practices into their everyday life has become highly important and they always strive to share that knowledge with those unfamiliar with the fair-trade movement.
Dakota was born and raised in Monroe, VA to a silversmith and an engineer who both introduced them to painting, jewelry making, and pottery at a young age. With two creative parents always producing a new piece of artwork, Dakota was instilled with an appreciation for the unique and different, as well as a love for pieces made by hand. They love knowing that each item that comes from Ten Thousand Villages is entirely unique to the person that made it and that their story gets to be told.
VOLUNTEER
Frequently Asked Questions:
How Do Volunteers Support the Mission of Ten Thousand Villages?
Enthusiastic and dedicated volunteers are vital to the success of Ten Thousand Villages and make it possible for Ten Thousand Villages to lower overhead costs. Volunteers are encouraged to learn as much as possible about the handicrafts we sell and the people who make them. We consider our volunteers to be Fair Trade Ambassadors because with this knowledge, our volunteers serve as advocates for artisans in countries around the world.
What Do Volunteers Do?
Sharing artisan stories. Unpacking a hand drum from India. Updating our website. Learning about Fair Trade. Showing a child where Kenya is on the map. Transporting recylables to the recycling center. Restocking the store of handicrafts. Repairing broken items so they can be sold. And much more.
Volunteers Can Choose To Participate On The Following Teams:

Customer Service. Customer Service Volunteers work on a wide variety of activities; from learning and sharing artisan stories with customers to ringing up handicraft sales and wrapping them for safe travels.
Merchandise. Merchandise Volunteers work with the handicrafts we sell; restocking the store, unpacking shipments from all over the world, and repairing items that have been broken.
Technology. Technology Volunteers help us with anything & everything electronic! From maintaining our computer networking system to updating our website. This is a flexible position that can be an "on-call" volunteer opportunity.
Steps To Applying
You fill out an application at one of the following links:
We contact you for a phone interview
We invite you to an introductory Part I Training
You participate in Part II Trainings specific to your volunteer team
Part I Trainings are scheduled for the 1st Tuesday afternoon and Thursday morning of every month. Part II Trainings are scheduled for the 2nd or 3rd Tuesday afternoon and Thursday morning of each month (date depends on your volunteer team).
*Please Note: Training days are subject to change.*
If you have any further questions, please contact the store at richmond@tenthousandvillages.com or 804.358.5170.
Store Infomation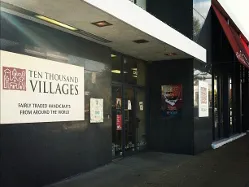 Store Operation Hours
| | |
| --- | --- |
| Monday | 11:00 AM - 05:00 PM |
| Tuesday | 11:00 AM - 05:00 PM |
| Wednesday | 11:00 AM - 05:00 PM |
| Thursday | 11:00 AM - 05:00 PM |
| Friday | 11:00 AM - 05:00 PM |
| Saturday | 11:00 AM - 06:00 PM |
| Sunday | 12:00 PM - 05:00 PM |