Services Offered:
In-Store Shopping
Curbside Pick Up
Private Shopping
ABOUT US
Ten Thousand Villages in Winter Park, FL, is a fair trade retailer of artisan-crafted home decor, personal accessories and gift items from across the globe. Featuring products from more than 130 artisan groups in some 38 countries, we are part of a network of over 390 retail outlets throughout the United States selling Ten Thousand Villages products.
As one of the world's oldest and largest fair trade organizations, Ten Thousand Villages has spent more than 60 years cultivating trading relationships in which artisans receive a fair price for their work and consumers have access to distinctive handcrafted items. We seek to establish long-term buying relationships in places where skilled artisans are under- or unemployed, and in which they lack other opportunities for income. A founding member of the World Fair Trade Organization (WFTO), Ten Thousand Villages sees fair trade as an alternative approach to conventional international trade.
Community Shopping Benefits
If you are looking for a unique way to raise money for a special nonprofit or cause, consider a Shopping Benefit at Ten Thousand Villages Winter Park. Simply invite your membership to shop at the store during a designated day and time, and a percentage of the sales will be donated back to your organization.
Your friends and colleagues will enjoy shopping for gifts that give in three ways: to the artisans we support; to your own special cause; and to the person receiving the gift. For more information call our store at 407-644-8464.
VOLUNTEER
Ten Thousand Villages of Orlando welcomes you to join our village of volunteers! As a nonprofit store, volunteers are crucial to our success, helping us to keep our overhead costs low, which allows us to purchase more from artisans. Apply now to join our fun-filled volunteer positions—greeting and interacting with customers, unpacking and receiving orders, assisting with merchandise displays and operating the cash register. We welcome volunteers ages 17 and up any time of the year.
Let us know you are interested by filling out an application at our store. You can also contact our store at 407-644-8464 or email our store manager at manager.winterpark@tenthousandvillages.com for more information.
Store Infomation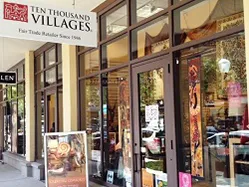 Store Operation Hours
| | |
| --- | --- |
| Monday | 10:00 AM - 05:30 PM |
| Tuesday | 10:00 AM - 05:30 PM |
| Wednesday | 10:00 AM - 05:30 PM |
| Thursday | 10:00 AM - 05:30 PM |
| Friday | 10:00 AM - 05:30 PM |
| Saturday | 10:00 AM - 06:00 PM |
| Sunday | 11:00 AM - 05:00 PM |