Pasadena
ABOUT US
Ten Thousand Villages in Pasadena, CA, Is more than a store, we're a global maker‑to‑market movement. We're a way for you to shop with intention for ethically sourced wares, and to share in the joy of connecting with makers around the world. Sharing our humanity!
As pioneers of the fair trade movement, we do business differently, putting people and planet first. That means you can trust that every handmade purchase you make from us directly impacts the life and community of its maker.
Discover unique jewelry, home decor, hand-knotted rugs and specialty foods and beverages from around the world.
We opened our doors on South Lake Avenue in June 2006 and were the first Ten Thousand Villages store in California. Come be a part of our story!
Stay Connected: Like us on Facebook and follow us on Instagram to stay updated about events, sales, and new products.
OUR STORE HISTORY
Our Pasadena story began on South Lake Ave when a group of fair trade advocates decided that they wanted to open a Ten Thousand Villages store in the beautiful city of Pasadena, CA. A volunteer-based nonprofit board was formed, and the store opened June 2006 on South Lake Ave next door to Magnolia House. In 2009, we moved across the street to a bigger space that offered a more central location with two entrances and a parking lot with free 2 hour parking. In July 2021, we celebrated 15 years strong providing ethically sourced handcrafted global gifts, global-to-local events and celebrations, plus fair trade education to the greater Pasadena and Los Angeles community.
We Offer:
- Benefit Shopping Days - community shopping events that benefit local organizations
- Curbside and online order pick-up
- Presentations for groups of all ages about fair trade
- A Little Free Library in front of our shop (Lake Ave entrance)
- Workshops and popup events (in-person and online)
- Monthly Refill Station
- Annual Rug Event
VOLUNTEER WITH US
The success of Ten Thousand Villages largely depends on the commitment and enthusiasm of volunteers. Volunteers are crucial to our mission and operation. As fair trade ambassadors, volunteers help to amplify our mission by sharing about fair trade in the store and throughout the community. This is a rewarding and fulfilling volunteer experience because you will be making a difference in the lives of more than 20,000 artisans and their families.
Click here to fill out the online volunteer application
SUPPORT OUR MISSION
It's with the support of people like you, choosing to vote for a better world with your dollars, that together we are working to break the cycle of poverty and ignite social change worldwide.
Ten Thousand Villages Pasadena stands by our mission to serve the local and global community in the spirit of fair trade and economic justice. Together, with your generous and compassionate support, we are driving global social change to help improve the quality of life of makers all around the world.
Every single dollar donated has a real-world impact and your donation to Ten Thousand Villages Pasadena allows us to continue this important work. Each and every one of your investments in our maker-to-market model make it possible for artisans to earn fair wages with dignity, respect, and in celebration of their crafts and cultures.
Click here to donate today to support fair trade and help sustain our Pasadena storefront.
Ways to support fair trade?
- Shop with us: in-store, online at www.tenthousandvillages.com/pasadena to have your items shipped, or locally online at
www.villagespasadena.com for pickup at our Pasadena store.
- Donate to support our mission
- Volunteer with us
- Join our Board of Directors: we are seeking professionals with experience in law, retail, social media, advertising/marketing, volunteer management, finance/accounting, or nonprofit. Email pasadena@tenthousandvillages.com for more info.
- Leave us a review on Google or Yelp, so more people can find us, or refer us to your friends and family!
Store Infomation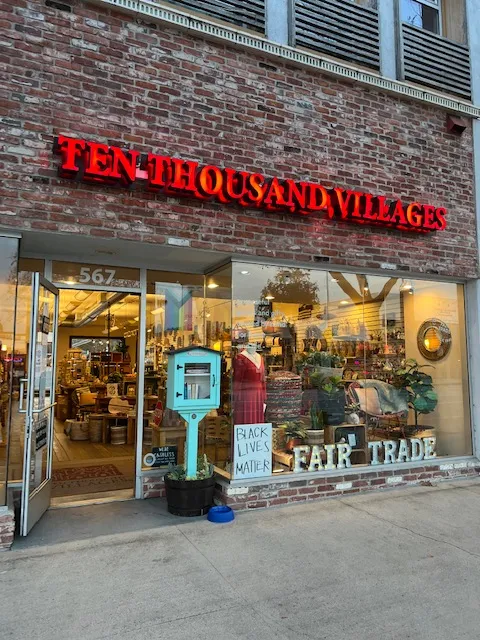 Store Operation Hours
| | |
| --- | --- |
| Monday | 11:00 AM - 08:00 PM |
| Tuesday | 11:00 AM - 08:00 PM |
| Wednesday | 11:00 AM - 08:00 PM |
| Thursday | 11:00 AM - 08:00 PM |
| Friday | 11:00 AM - 08:00 PM |
| Saturday | 11:00 AM - 08:00 PM |
| Sunday | 11:00 AM - 07:00 PM |